SB International is an Indian based company established in 2003, engaged in the manufacture and export of high quality Equestrian Products and boots in Western Styles.
SB International has been honoured with the "Government of India recognized Export House" certification by Council for Leather Exports in India. With over a decade of experience and innovation in this industry, we are fully equipped for the latest tack business developments, and we always move parallel to the latest business trend. This is the reason we are successfully exporting quality tack to leading importers in US with continuous growth in goodwill and business.
Excellence, competitive pricing, best quality, prompt delivery, all of them make our business larger & larger, business friends more and more. Innovation, maintained Quality and attention to detail have always been and continue to be the essence of what we do. For the past so many years we, at SB International are dedicated to design and create superior equestrian equipments'. We take great pride in always delivering the best service and product.
We have a large number of satisfied clients, proof of our dedicated service and excellent quality. We pay utmost attention to this aspect of our production. We believe that we can only progress if we have satisfied customers, a belief that has paid dividends.
Our unit is a wide spread set up with sophisticated infrastructure, well equipped with the latest technology machineries, hi-tech facilities, qualified & experienced administrative unit, skilled labour so as to serve good quality products with acceptable prices at all times to all our valuable customers offering services to them till the products reaches the door of our customers in good condition and time. Our Mission is to become the Supreme Innovator, Supplier & Brand of the Equestrian Industry through our hard work and dedication to satisfy our customers with the finest quality of products with timely deliveries and competitive prices ensuring long lasting relationship.
We are exclusively into the production of Western Cowboy Boots, Western Saddles, Western tack products like Headstalls, Halters, Breast Collars, Spur Straps, Nose Bands, Reins, Bosals, Girths, Lead Ropes, Nylon Halters, Rugs, Saddle Blankets and many more Saddle Accessories. We are also into the production of Western Ladies Bag, Luggage Bag, Belts & Pet Products using high quality leather and latest styles and patterns as per the changes in the market.
Infrastructure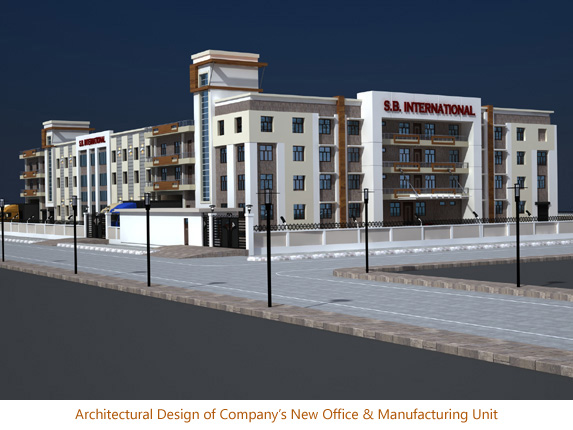 We have in-house production, finishing & packing units. Our factory is equipped by a team of qualified designers, quality controllers, pattern masters, and finishing & packing staff. And our in-house production unit enables us to develop any new item as per our clients' requirement & specification.
At SB International, you can be best assured that much care has been taken to make your product something special that works, and will endure. We have dedicated ourselves to customer service, and designing innovative riding equipments.
Company's New Infrastructure Project
By end of March 2018, SB International is planning to shift its Manufacturing unit and office to its new premises at Rooma, Kanpur with approximately 1,45,000 sq. ft. of work area under its belt distributed in three floors. Although geographically, the company is not moving far from its present location, but the new work place, which is almost four time bigger than the present factory area, will give our staff, suppliers and visitors a better and modern work environment which will enhance our workmanship increasing our productivity and quality in return. Even for our clients we will be able to give excellent service.
Quality Assurance
As an ISO 9001-2015 certified company, the products that we manufacture, passes through a series of stringent quality tests before arriving in the market. We do not falter on bulk orders and also assure timely shipment.